OVERVIEW:
PROBLEM:
It's difficult to find volunteer forms and see all adoptable dogs on the site. The outdated design also makes the organization feel untrustworthy and unprofessional.
SOLUTION:
Redesign the information architecture and update the UI to a more modern design.

DELIVERABLES:
Heuristic evaluation, competitor analysis, personas, customer journey, sitemap, wireframes, high-fidelity mockups, prototype
TOOLS:
Heuristic evaluation, card sorting, pen and paper, Figma
DURATION
2 weeks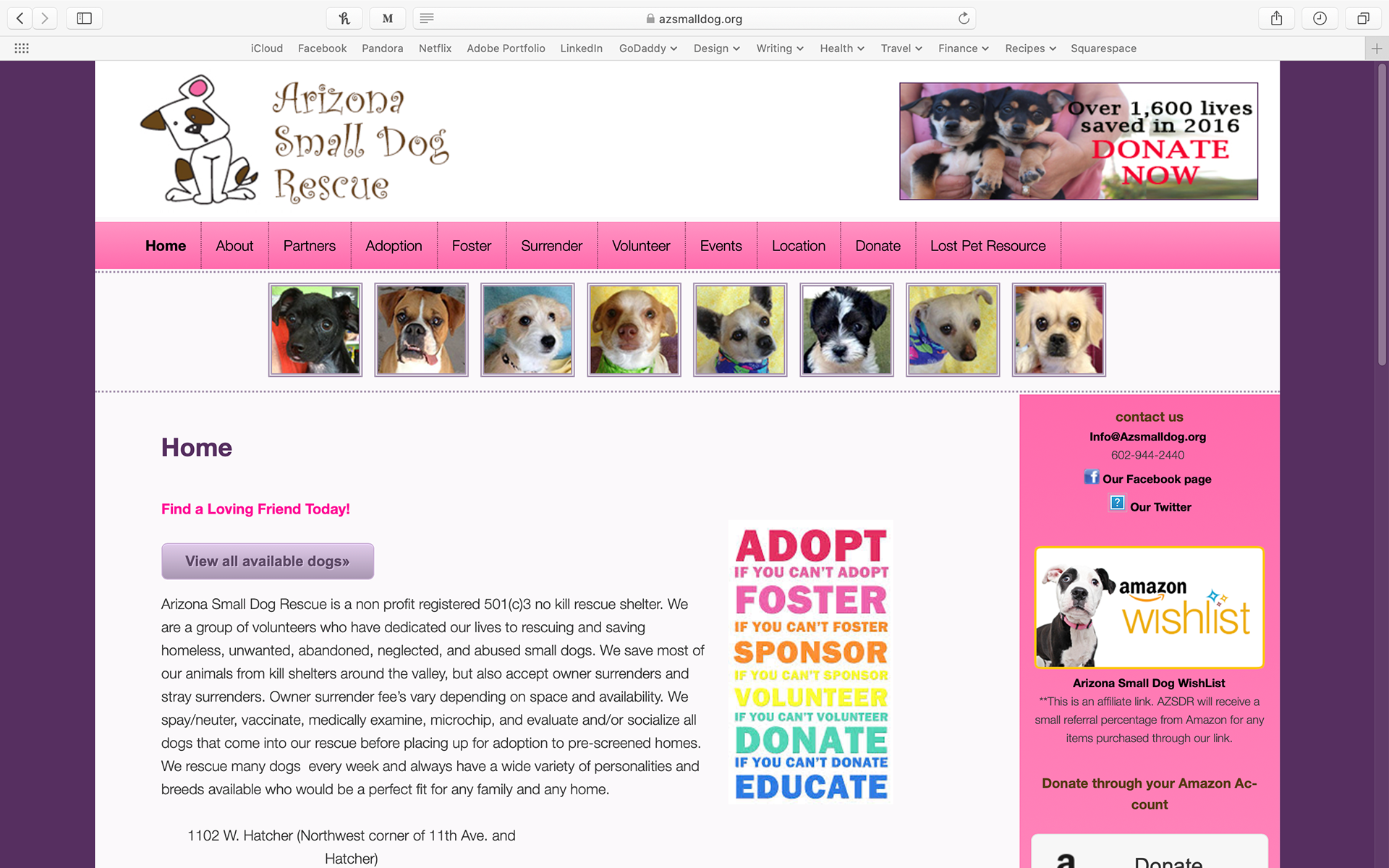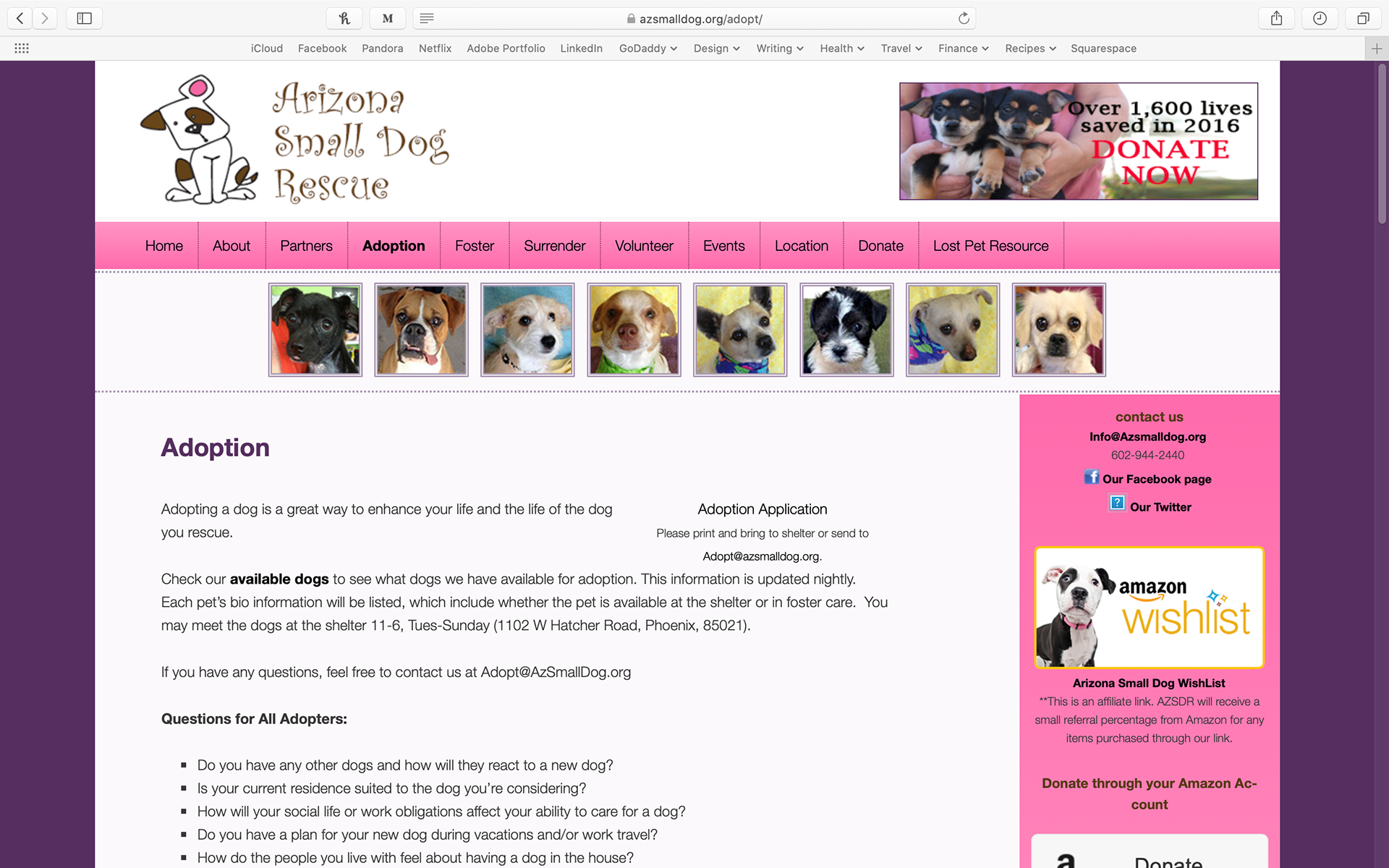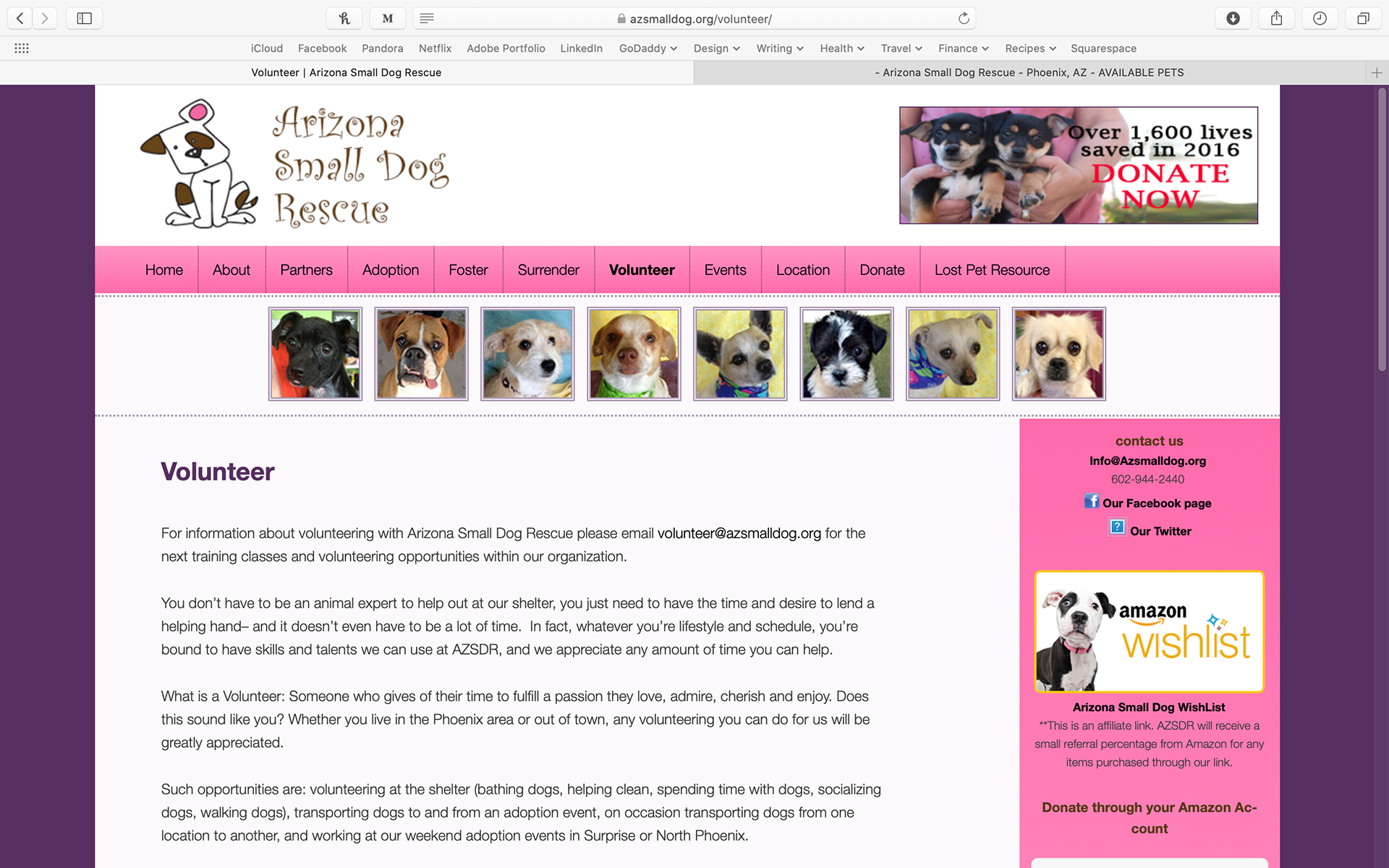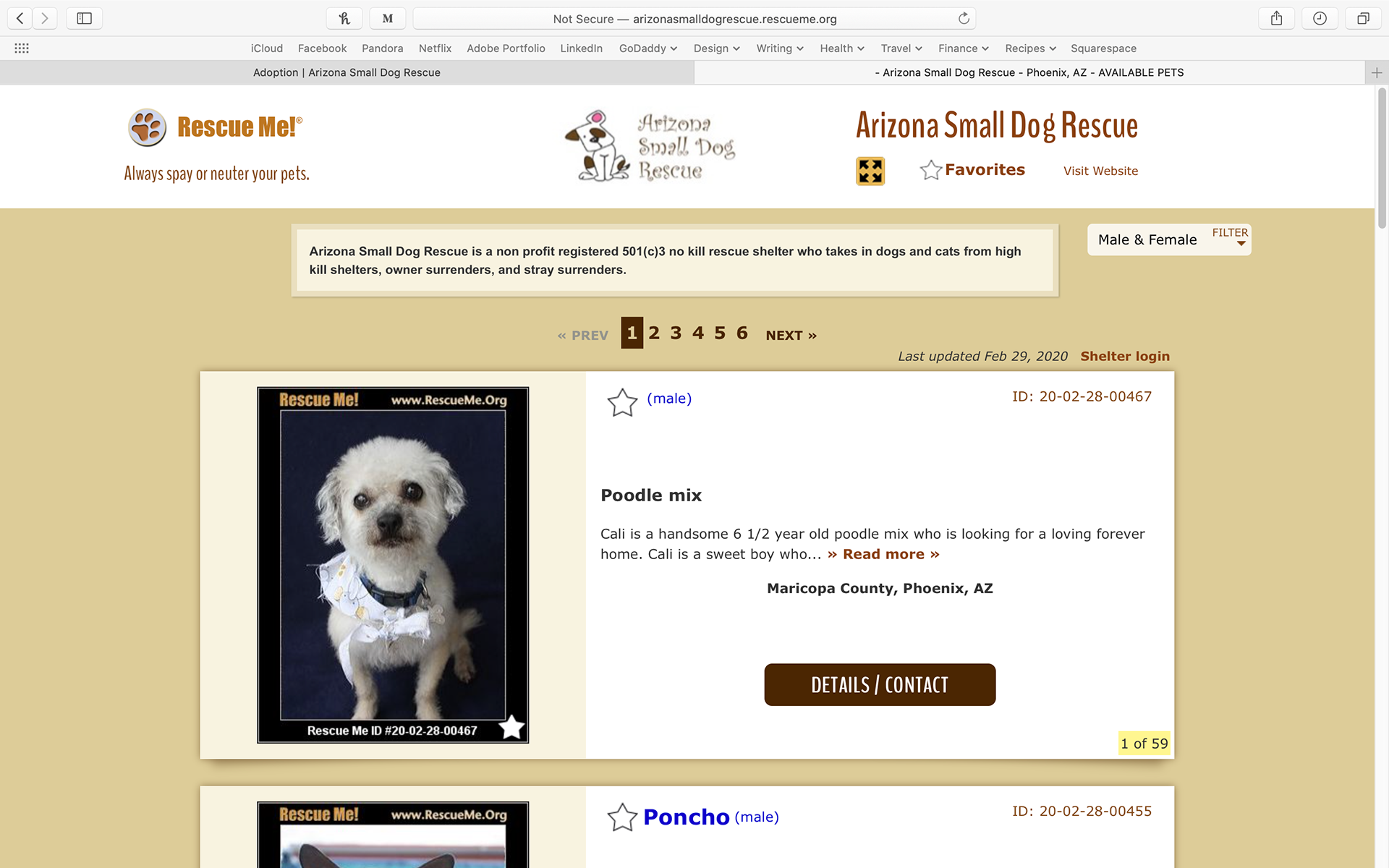 HEURISTIC EVALUATION
I conducted my own heuristic evaluation based on
Neilson Norman Group
's criteria: visibility of system status, match between a system and the real world, user control and freedom, consistency and standards, error prevention, recognition rather than recall, flexibility and efficiency of use, aesthetic and minimalist design, help users recognize and recover from error, and help and documentation. Through these methods I gained a lot of useful feedback and observations:
The navigation was confusing
Users felt that the site was untrustworthy because the adoptable dogs section seemed to be a different site altogether
It was hard to find volunteer forms
COMPETITOR ANALYSIS
Arizona Small Dog Rescue has 2 indirect competitor (Petsmart and Petco), and 2 direct competitors (Arizona Humane Society and Maricopa County Animal Control). The key purpose for the indirect competitors is to sell pet supplies, whereas the direct competitors are trying to find permanent or temporary homes for animals.
PERSONA 1
"As a recent retiree, I want to volunteer my free time at a dog shelter."
Find volunteer forms
Foster a dog
Cluttered navigation
Knowing if the site is legitimate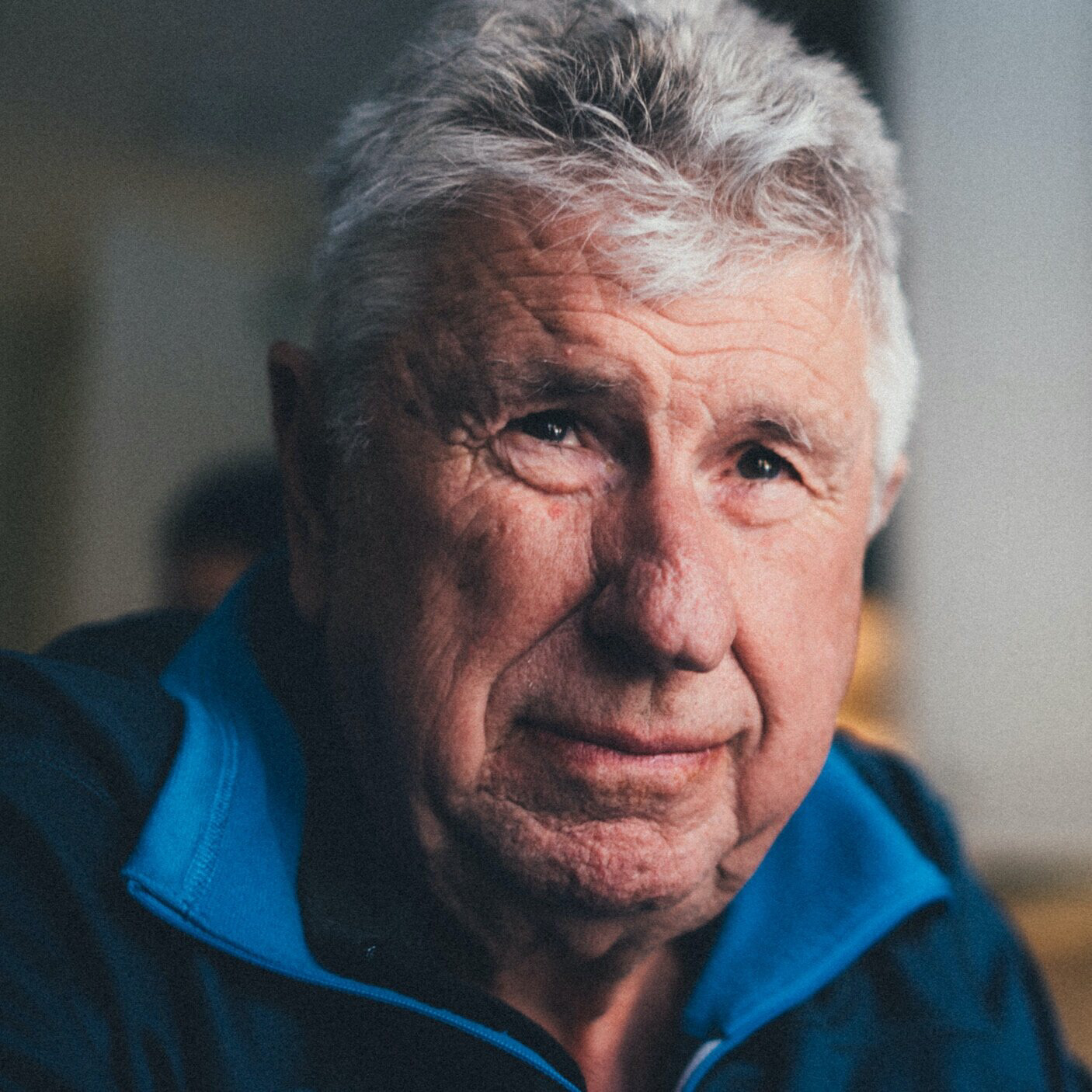 PERSONA 2
"I want to adopt a dog that's small enough for my apartment."
Find information about adopting a dog
See available dogs
Find adoption form
Viewing all available dogs on the site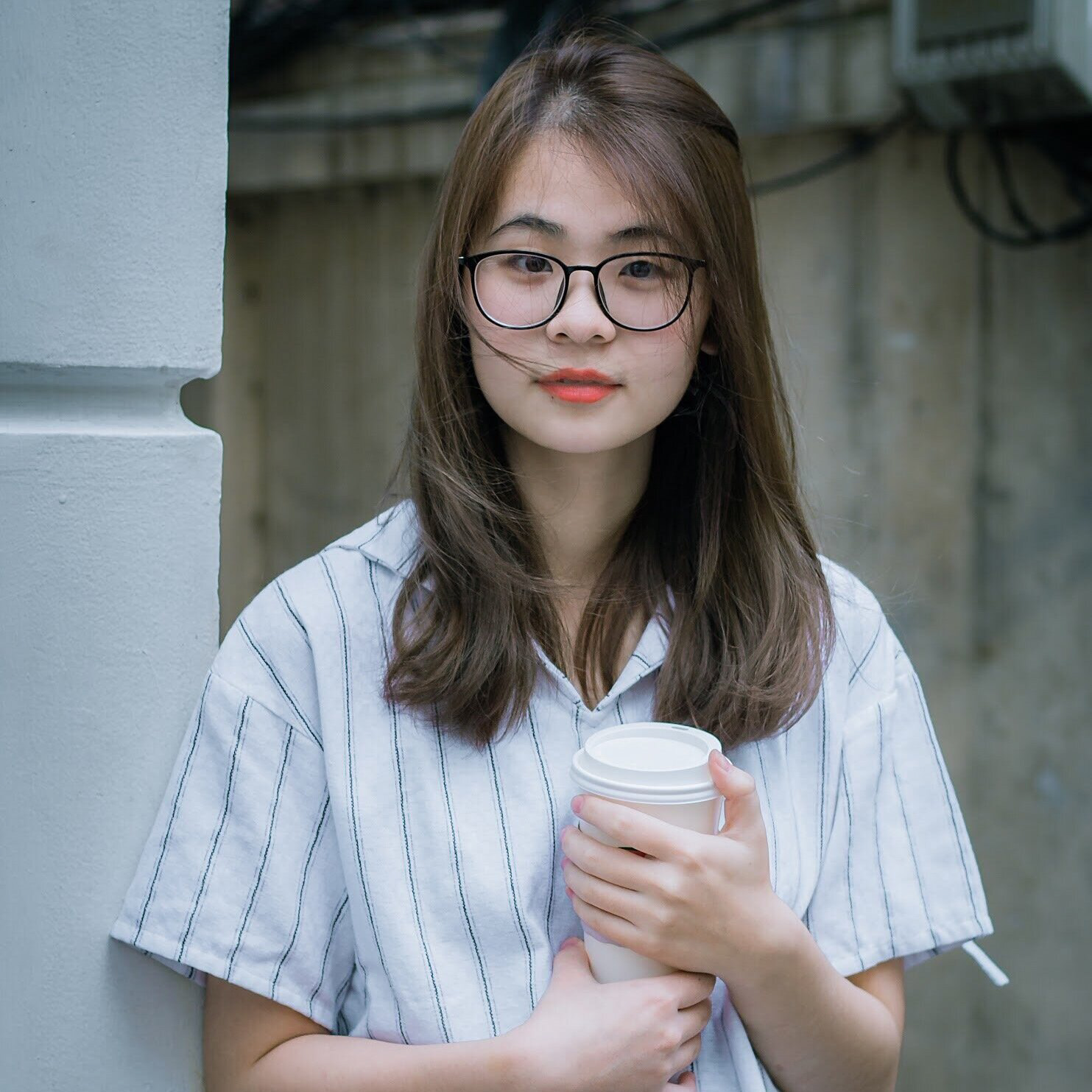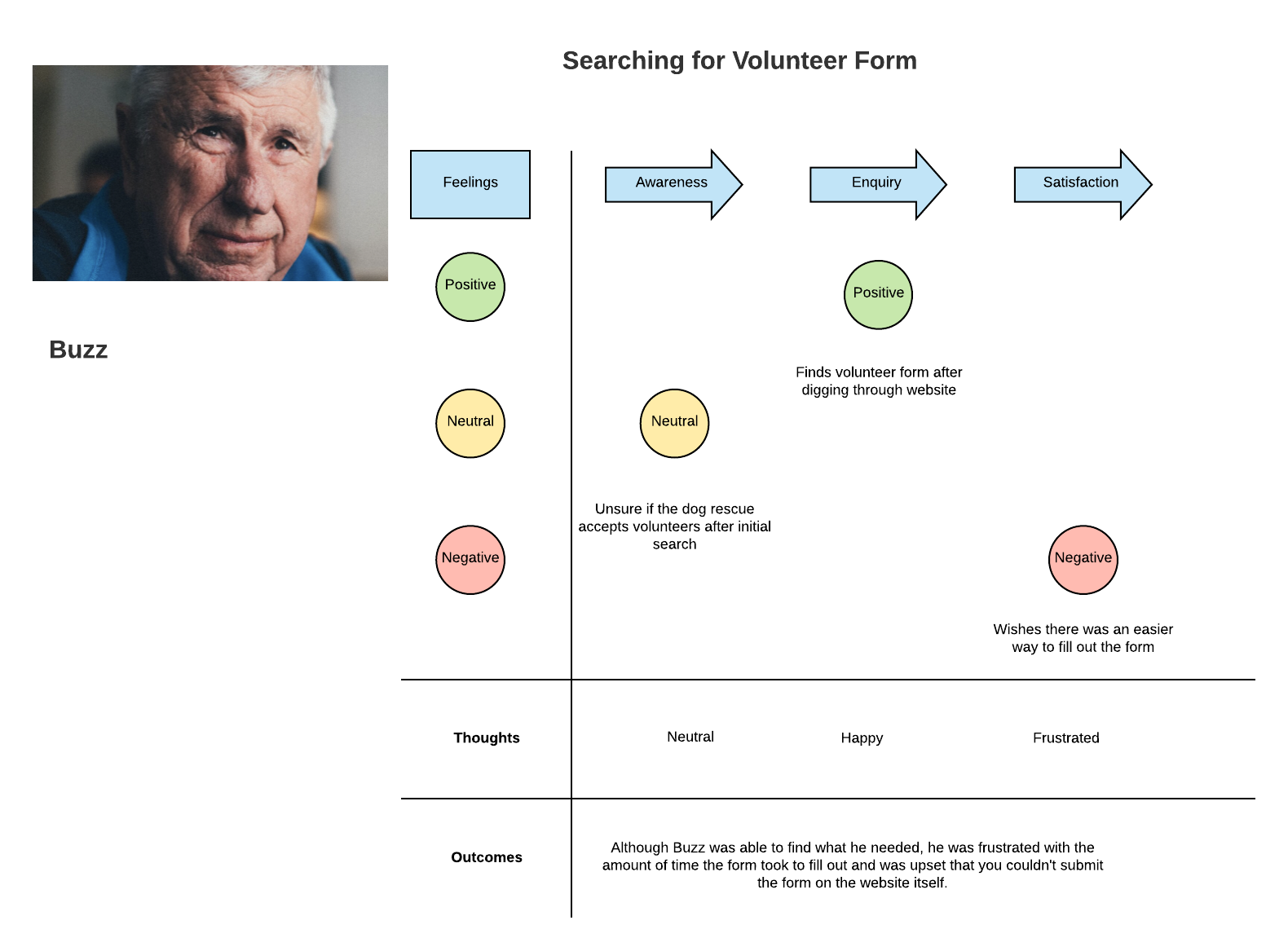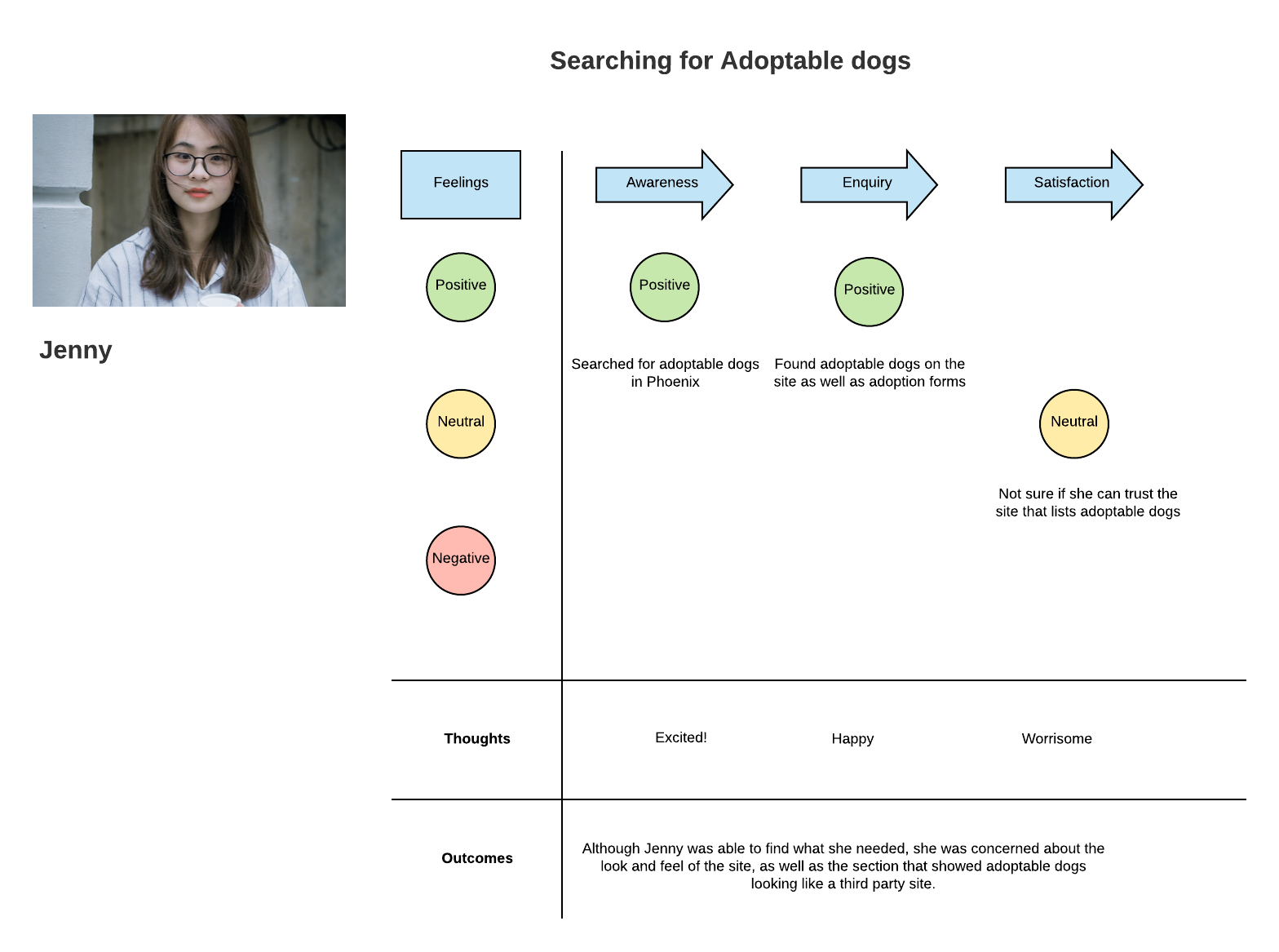 CUSTOMER JOURNEY
The customer journey includes an emotional indicator that helps us to visualize where the pain points were in the flow and helped to influence the information architecture.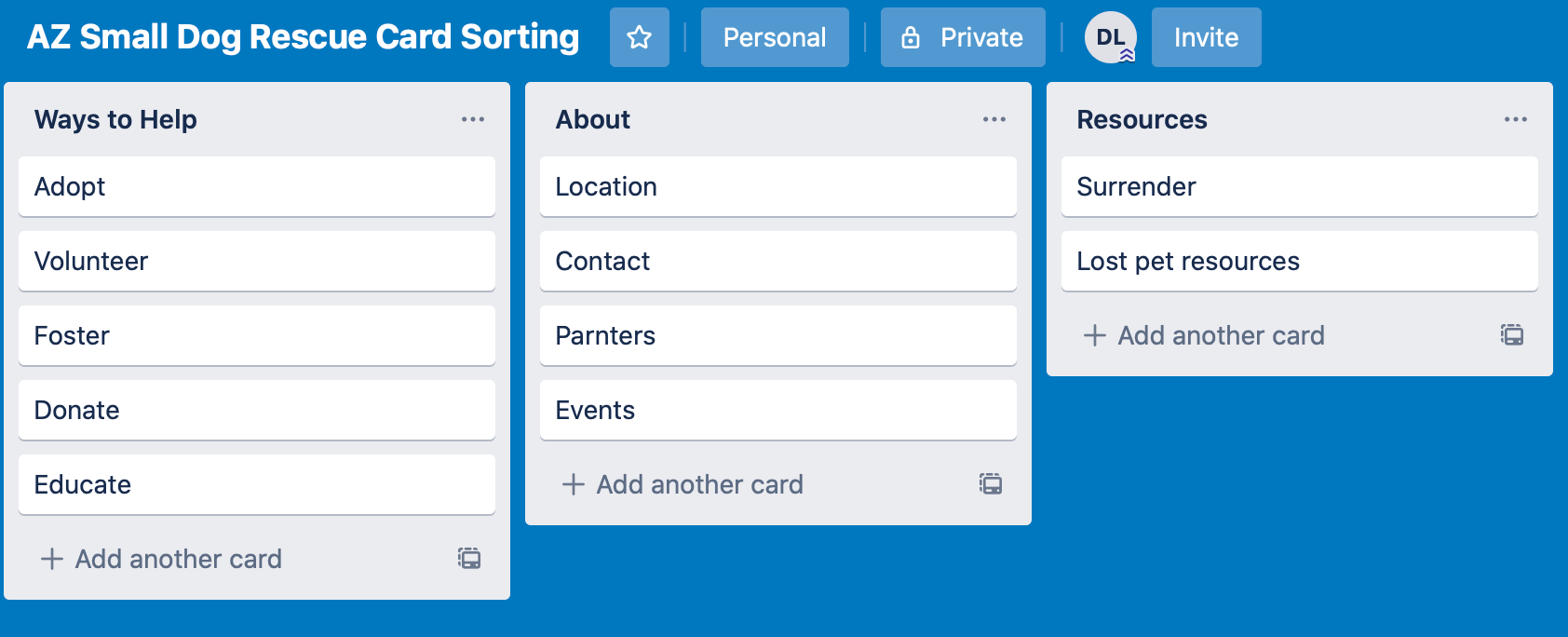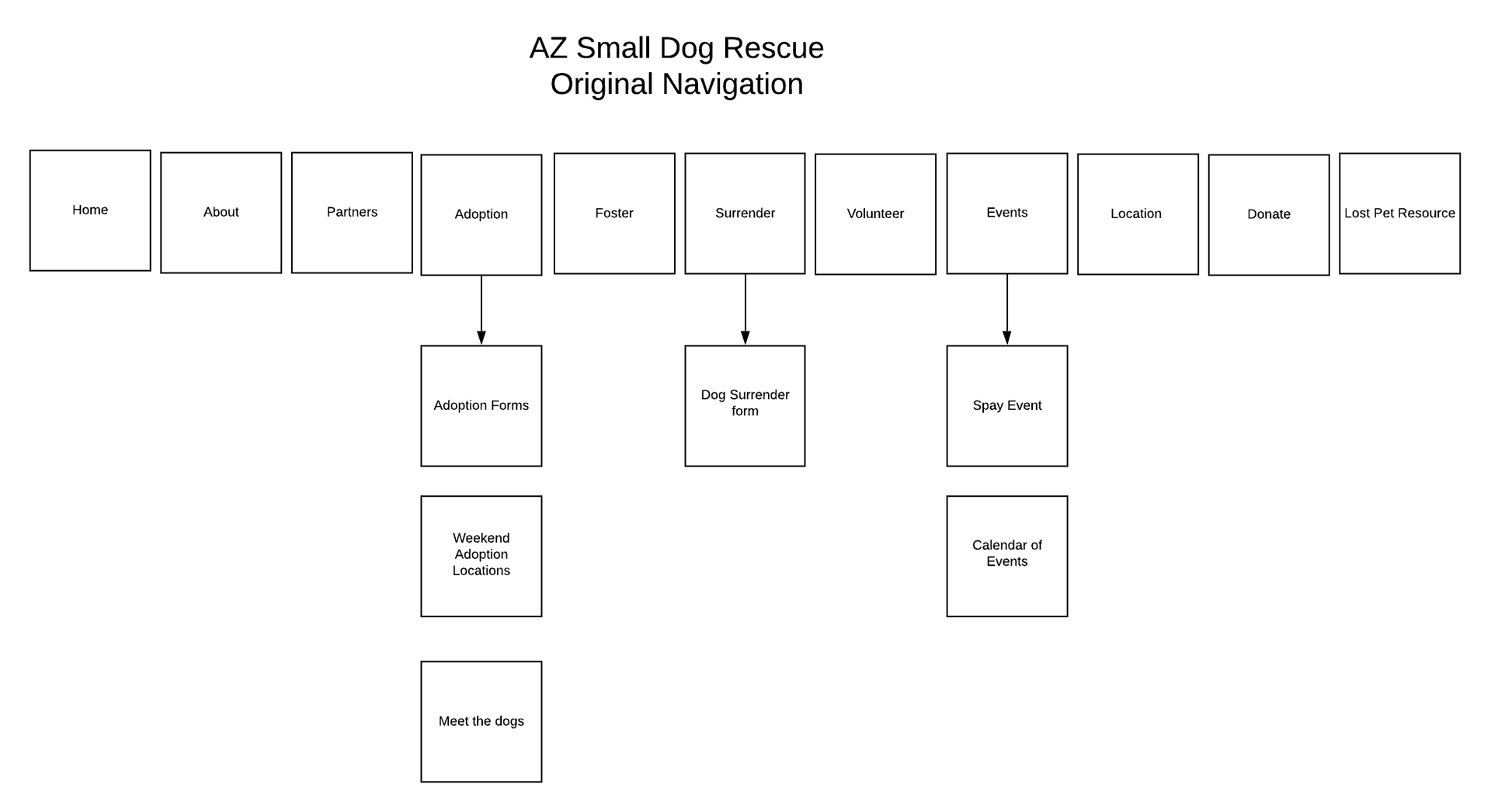 CARD SORTING & INFORMATION ARCHITECTURE
I used card sorting to help me determine the information architecture, by having users group together the items they thought were most important. The original navigation is very broad. This can cause confusion for some users. The revised site architecture has fewer main navigation links which act as the umbrella to house related categories.



WIREFRAMES
Some rough sketches of wireframes were made to get a basic idea of the layout and content structure. These were made for the home page, volunteer form page, as well as adoptable dogs section.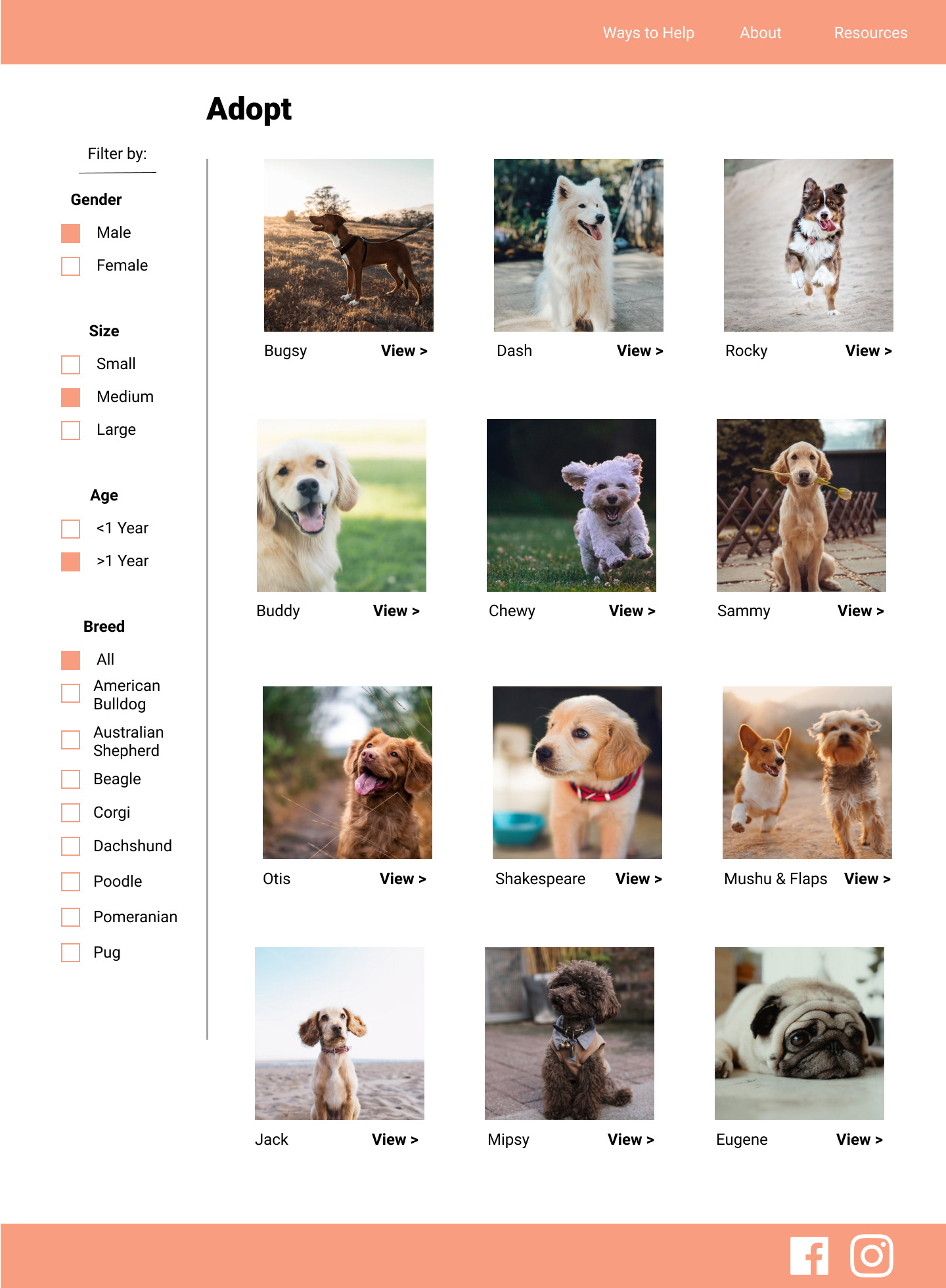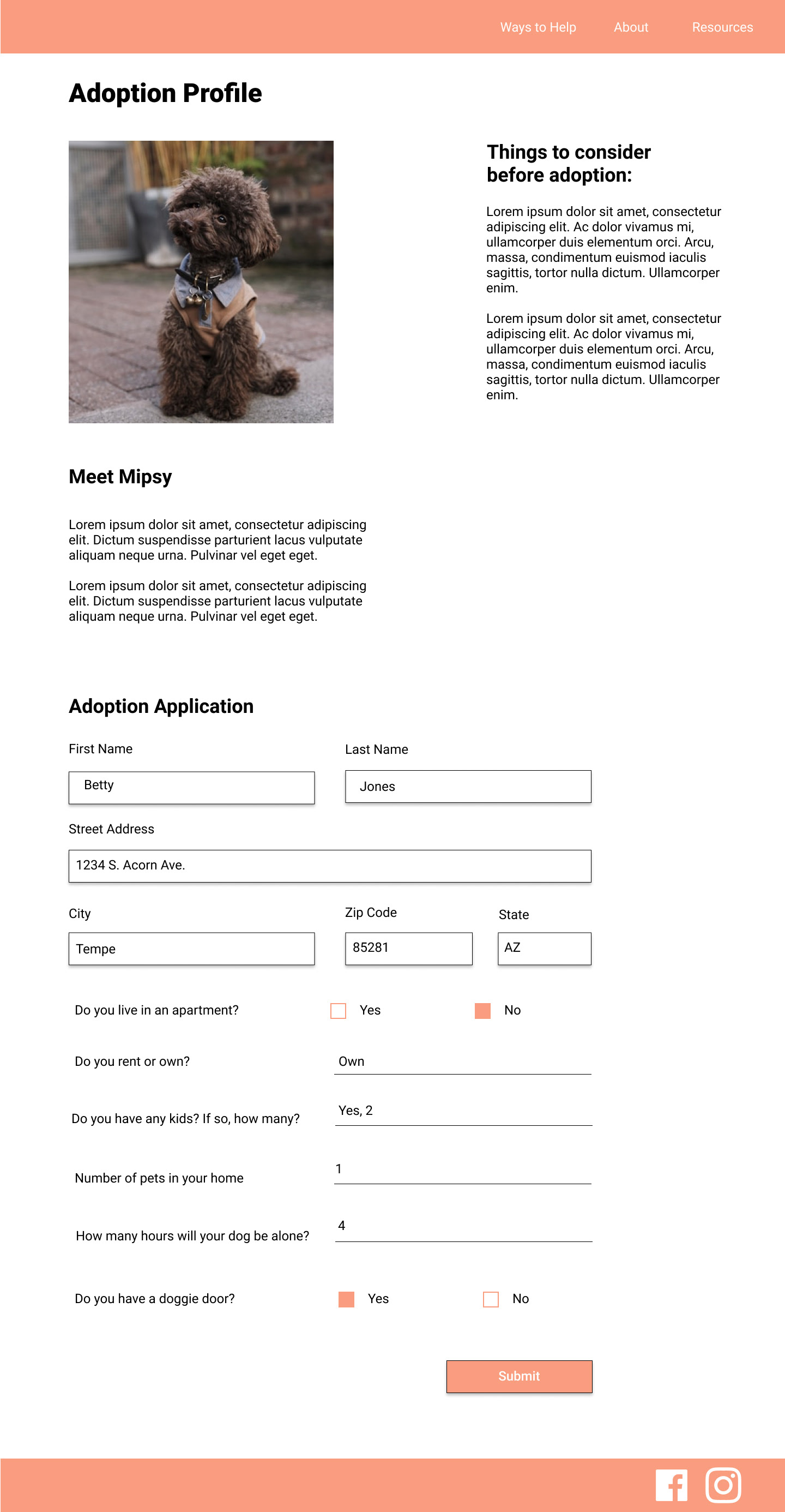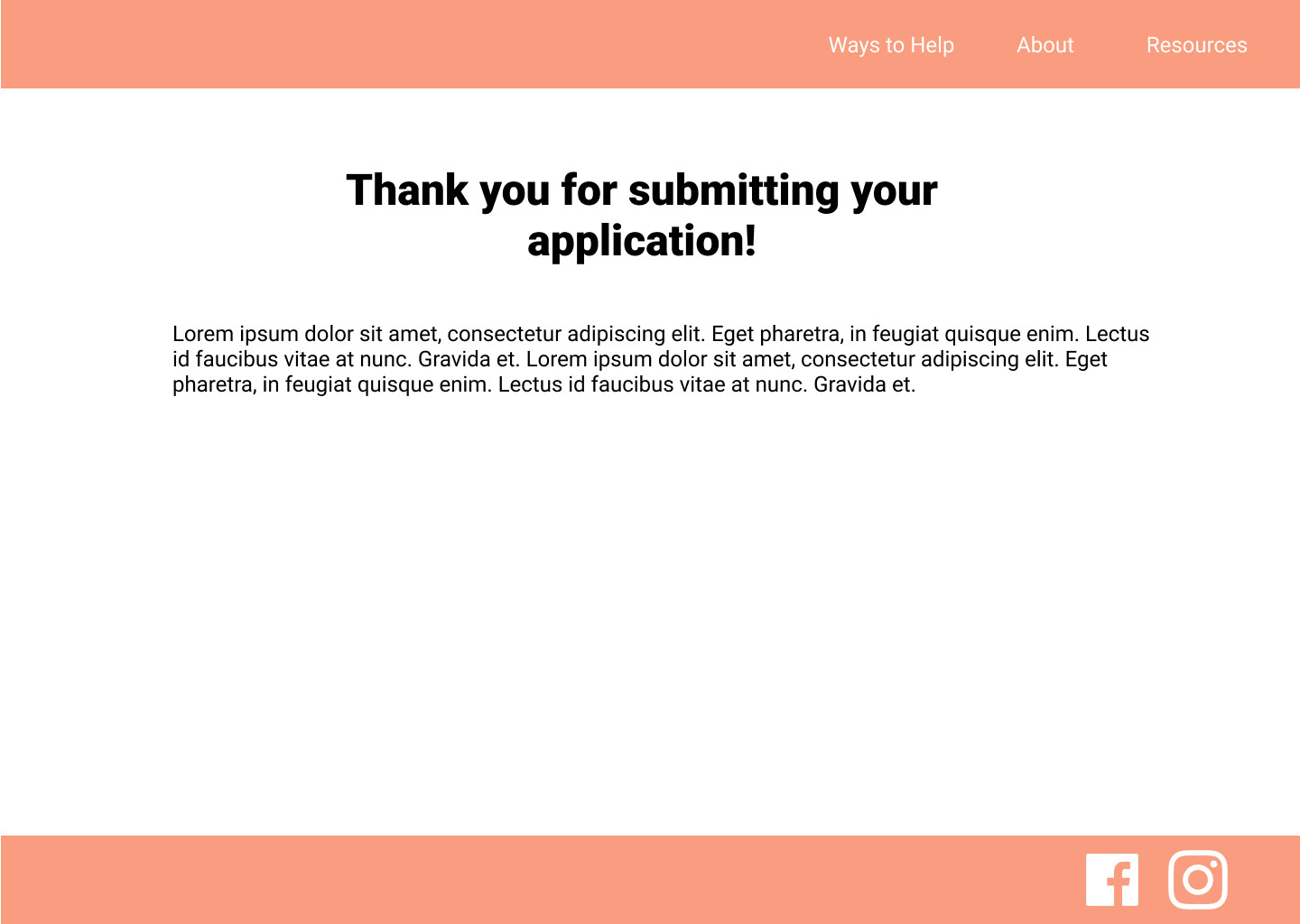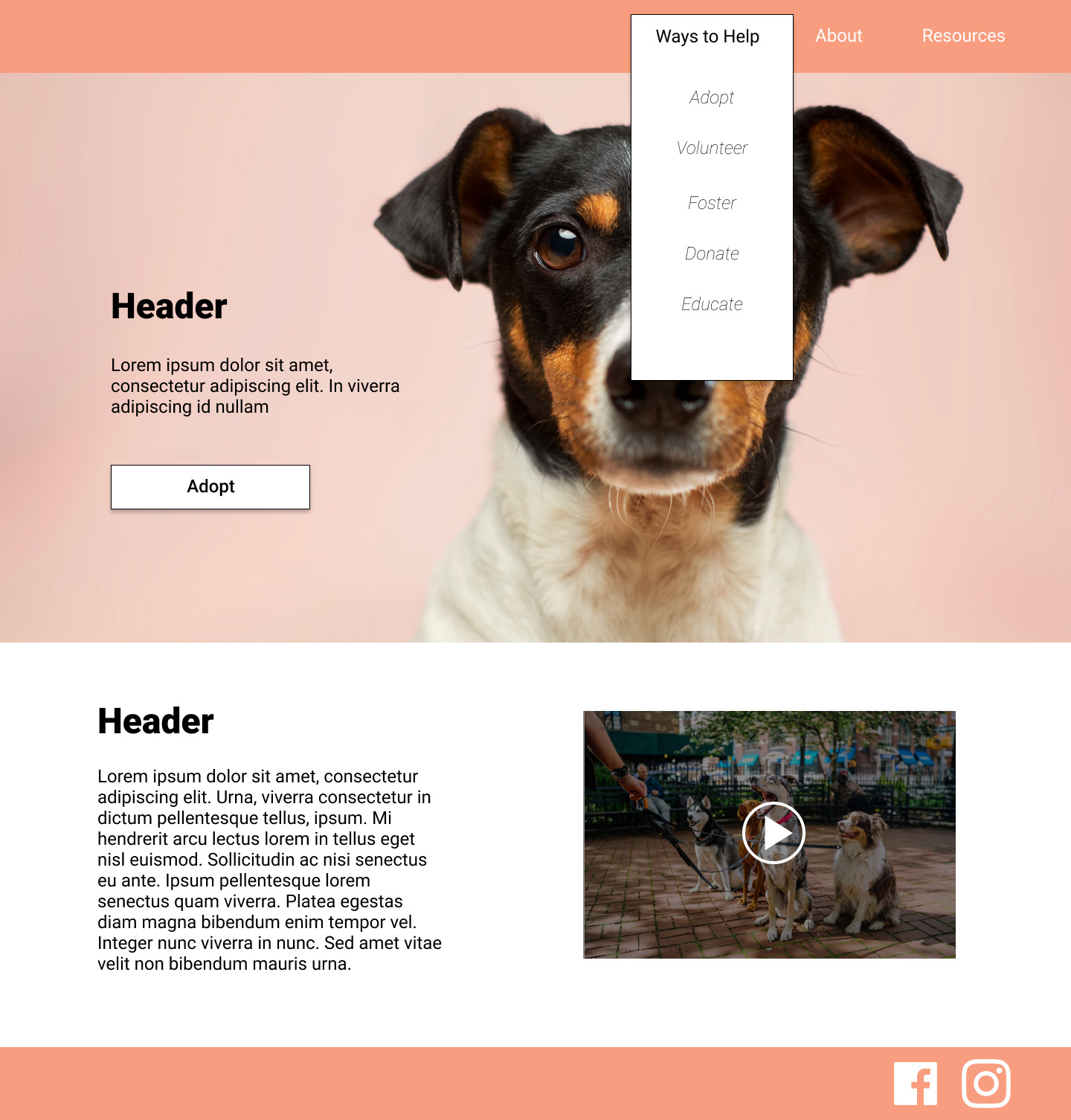 HIGH-FIDELITY MOCKUPS
High-fidelity mockups show the user flow on a desktop device.

DESKTOP INTERACTIONS
Desktop interactions shows the user's flow through adopting a dog.

USER RESEARCH
I conducted user research by sending out a survey asking about the experience of the prototype. I asked the following open-ended questions to users:
Overall, what are your thoughts on the CURRENT site?
What pain points, if any, did you have on the CURRENT site?
Overall, what are your thoughts on the PROTOTYPE?
What pain points, if any, did you have on the PROTOTYPE?
What was missing, if anything, from the redesign?

CONCLUSION
After analyzing the results, I realized users wanted more pages available in the prototype. The organization of the navigation in my prototype did show an improvement to the original navigation, however, unforeseen issues with being able to use the prototype on a phone made the experience less than satisfactory for some users. In the next iteration of this prototype I would create more pages for users to navigate to, which would include a volunteer form page. Some users did note that finding the available adoptable dogs was more intuitive than the original site.